only the best materials of mahogany and ebony wood will be used, so there are no cracks, peeling or anything will be happen. The box will be save for many years. (Lifetime guarantee)
are made from .007 inch brass or stainless steel and are 3 inches square. All six sides being completely different. All panels were made by a professional chemical milling company in germany and have been fully etched through from both sides. This process gives them perfectly smooth edges with no imperfections.
each static or movable box, sphere and leviathan are unique and are made to order especially for you. It gets a serial number and comes with signed COA which certifies that you got an unique masterpiece made by Norfok™
THE BOXES
Each puzzle box is unique and handmade with the puzzle box know-how since 1989 by the "Toymaker" Norfok™
Hellraiserbox.net, the home and only place worldwide from the "Movable Pyramid Lament Configuration".
No resin, foam, goldfoil or anything like this will be used!
The boxes has not been colored, stained or treated, it is natural color and wood grain is beautifully visible under the panels,
and the priapus star-face panels are always placed on black-brown makassar ebony!
Options & Service
A lot is possible behind the standard, take a look, choose additional options to your individual Hellraiser puzzle box.
Special Editions
Some of these special editions are still possible, some others not, contact us for availability, delivery time and amount.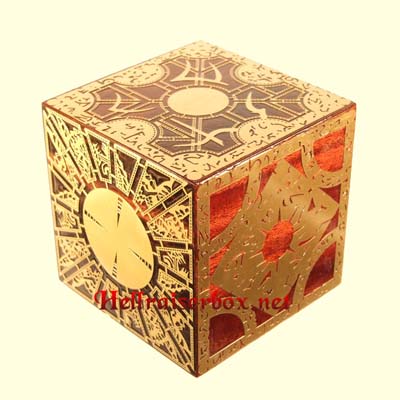 Static Box
Caesar B. (UK)

With regard to the original-style, solid Hellraiser puzzle box that I ordered: I am absolutely delighted with it! It now takes pride of place on my vintage aluminium trunk coffee table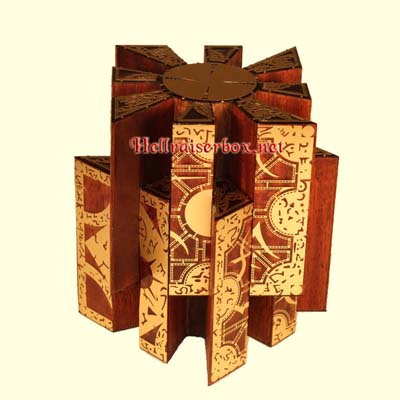 Movable Star
Jenny F. (USA)

We received our Movable Star Hellraiser box today, and I wanted to let you know it is absolutely stunning! My husband is a computer systems engineer, and I got your gorgeous box for him as a birthday present. He is thoroughly impressed with the precision and craftsmanship of the puzzle box, and this is the first time I have ever heard him use the word "beautiful" to describe a present I have gotten him (he is not prone to descriptive words like beautiful).
Thank you so much for creating such unique art.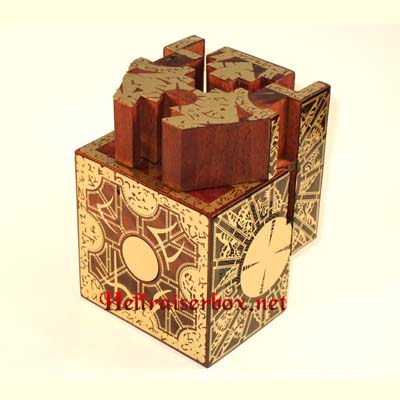 Movable Pyramid
Marció S. A. (BRASIL)

I never ever saw an Static Hellraiser Box so beautiful in my life as this one you made for me. Man, I cried when I saw it. Perfect, Perfect, Perfect. The wood, the panels, the COA, everything. I would like to thank you very much from my heart, deeply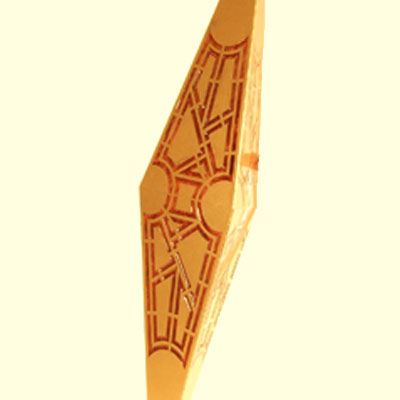 Leviathan
Scott H. (USA)

Thank you for the beautiful handcrafted Leviathan! It has always been something I have wanted. Beautiful work. I have been circling your site for a few years, and this limited edition made me pull the trigger finally! I know I will almost 99% be purchasing from you again when I need the definitive Lament box!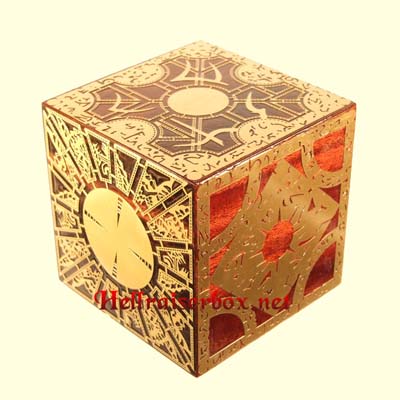 Static Box
Liron G. (ISRAEL)

I've just received the box and it's absolutely gorgeous. It was suppose to be a gift and now I want it for myself. Thanks a lot for this beautiful piece of art!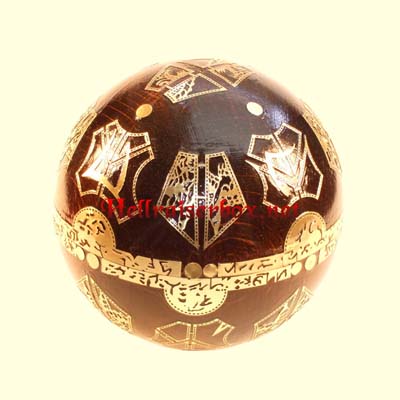 Hell Sphere
Thomas B. (BRD)

Die Sphere ist gestern bei mir angekommen. Perfektes Timing, pünktlich zum Geburtstag :-) Sie ist wirklich sehr gelungen. Ich bin absolut zufrieden. Nicht nur mit der Sphere, sondern mit allen Anfertigungen. Aber neben all dem Lob, möchte ich hiermit auch einfach nochmal Danke sagen:
für die tolle Arbeit und für den netten Kontakt/Service.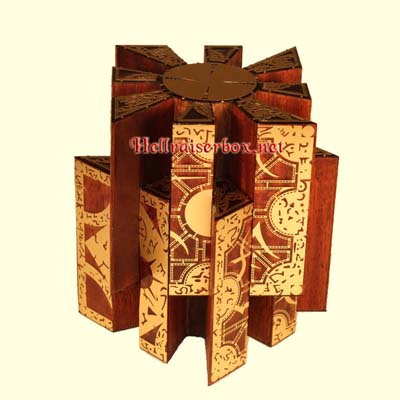 Movable Star
Graham B. (UK)

Just a quick e-mail to let you know the 'Moveable Star, Working Box' arrived safely and actually came one week early, just in time for Christmas. I am pleased to find the box finished to such a high standard of quality and operating with precision. It is a rare thing to find such craftsmanship in this modern world of mass production!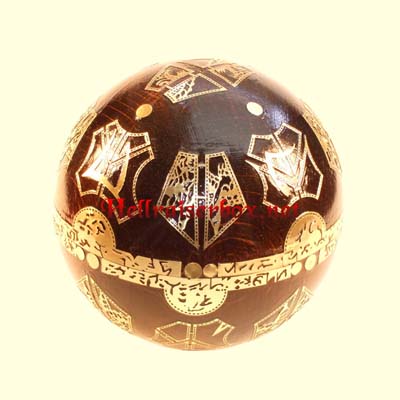 Hell Sphere
Paul T. (UK)

I received my Sphere today and am thoroughly delighted with it. The craftsmanship and quality is excellent, thanks very much!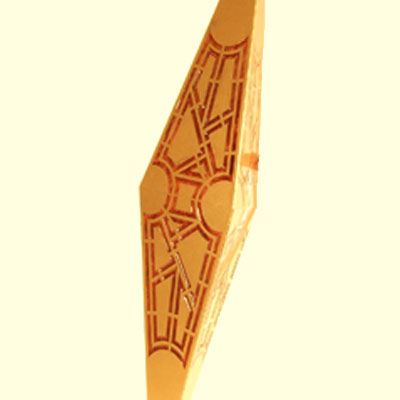 Leviathan
Todd B. (USA)

Just letting you know that I received the Leviathan replica today in the mail, I have to tell you I am just speechless. I absolutley adore it, what a piece of ART! I just couldnt be happier, and I thank you very much.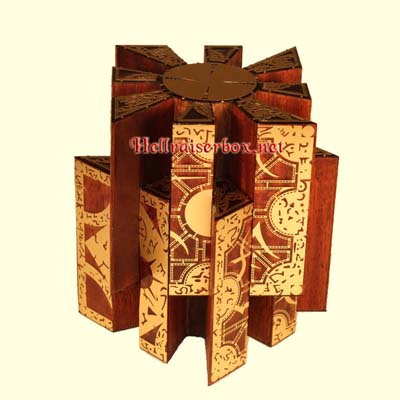 Movable Star
Ad V. (UK)

Received my 'Movable Star' today. It is quite special. The claim "Our movable star configuration are made with real precision and have smallest distances!" is absolutely correct. It fits snugly and eases apart with a perfect fit. This is not a 'mass-produced' disappointment, it is a significant piece of craftsmanship.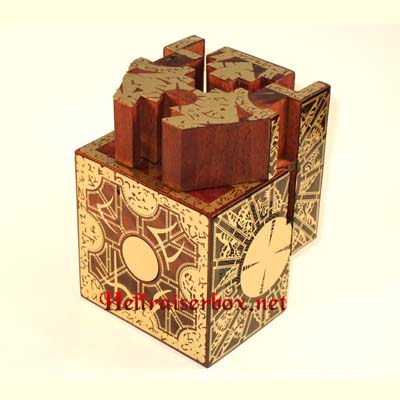 Movable Pyramid
James M. (USA)

The movable pyramid work is absolutely stunning. Exactly as advetised. To create something this incredible in just a few short weeks, is mind-blowing. Packaged beautifully, COA and the little stand were a great addition as well.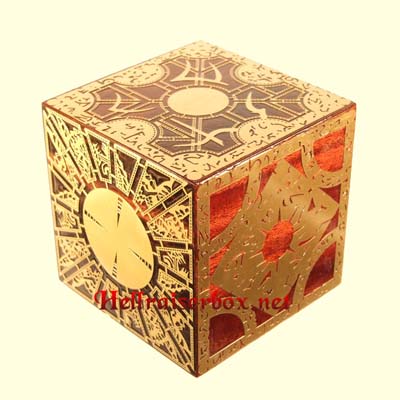 Static Box
Tom V.D.J. (BE)

Man, this one is much, much better than the one from ... I already had. The brass panels are much more detailed, and I love the dark grain of the wood. The overall finish is also much finer. I'm very happy with it. It's well worth it's money

Hidden Horrors: Creepy Collectibles
A review by Brian M. Sammons

Does your taste in art run a bit darker?
Got a leather fetish and a thing for pain?
Are you into chains and weird piercings?
Then chances are you're a fan of the Hellraiser films, and if that's the case then you've probably always wanted your own Hellraiser box,
or as us serious collectors know it, the Lament Configuration. If that is the case then there's one place you've got to go; Hellraiserbox.net.
Hellraiserbox.net offers a wide variety of hellish boxes to choose from. All are made of wood and brass and all have the perfect look and feel.
There's the basic cube that doesn't move but makes a great, museum-quality show piece. There are also a number of boxes that move like they do
in the movies just in case you want some extra realism. Hellraiserbox.net also offers the Leviathan Diamond first seen in Hellraiser II
and an original creation, a Hellraiser hell sphere. He has also created some unique and very functional variants of the cube.
Want a Lament Configuration that acts as an 8 GB flash drive? Well he's got that. How about a Hellraiser box that is actually an MP3 player?
Amazingly, he has that too. He also sells a good number of Hellraiser box schematics of various sizes and prices that look great
and are suitable for framing. All the boxes come with stands and signed and numbered certificates of authenticity.
They are all beautiful pieces for serious collectors but at very reasonable prices. If you are a fan of Pinhead and his pals then this is the
place for you. You can get your own box, and condemn your soul to an eternity of pleasure and pain.
YOUR ADVANTAGES FROM THE FIRST SIGHT
Premium Service:
Customer satisfaction has the uppermost priority for us. We are available to you 24h on the day by email.

1 A Quality:
High-Quality Hellraiser Puzzle Boxes.

Material:
We process only select wood of the best quality.
We let produce the brass/stainless steel Panels by a professional chemical milling company.

Shipping & Handling:
Registered airmail, just €30 Euro - Worldwide!
Worldwide shipping.